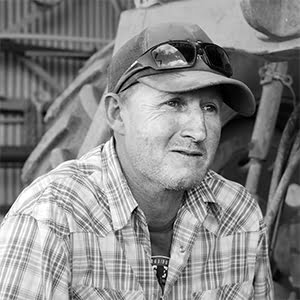 The early 2000s saw Mick start work on his father-in-law's 10,500-acre cropping and grazing farm in Trangie, New South Wales. Uninspired by the model of industrial agriculture and curious to find a different way of doing things, Mick began taking courses to broaden his understanding of regenerative farming and experimenting with innovative practices. Over the last twenty years, Mick has transitioned the farm from purely conventional methods to a more holistic approach.
Mick's current methods include applying fungal-rich liquid compost extract, cover cropping, and multi-species companion planting. These approaches aim to improve soil health, fertility and water holding capacity, increase resilience to pests and diseases, decrease weed pressure, and reduce reliance on harsh agricultural chemicals.
Mick hopes that the Climate Resilience Soils Network can help demystify regenerative agriculture and make alternative farming models more accessible for Australian farmers. He believes it can act as a group-learning resource for producers to share regional-specific systems knowledge and empower farmers to apply others' learnings and experiences to their businesses and lives.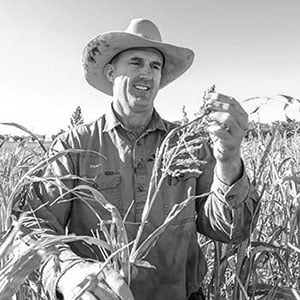 Stuart is a fourth-generation farmer on 1400 hectares in Canowindra, NSW. Stuart's family took ownership of the property in 1888 and has been there ever since. Stuart grows dry-land crops, including wheat, canola, barley and chickpeas, and raises merino sheep and Illawarra dairy cows. 
In 2020, Stuart transitioned the family farm to a zero-till approach as a way of helping maintain ground cover. Canowindra experiences a non-seasonal distribution of rainfall, so making the most of the rain available is vital to  extending the growing season of his crops. Stuart selects varieties based on their suitability for the rain's timing, and is currently experimenting with summer cover crops and different companion planning combinations.
Stuart connected with SoilCQuest after being part of a NSW Department of Primary Industries' farming systems trial and learning about the benefits of ground cover for boosting soil water recharge. Stuart hopes that the Climate Resilience Soils Network will provide farmers with a way of sharing local knowledge on how to best improve soil performance.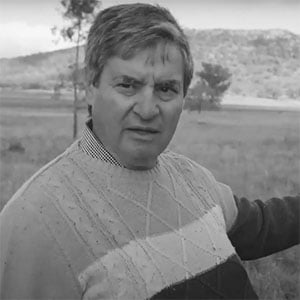 Steve and his wife bought their property 20 years ago and now run a successful farm business with their two sons. They grow wheat, barley, canola and occasionally legumes, long-term perennial pastures, and have 3000 head of merino sheep.
Steve's background as an Agronomist means he has a thorough understanding of agricultural science and knows that healthy soils are everything. A long-standing focus on improving soil health and structure since the Millennial Drought meant that Steve's farm continued to be profitable throughout the tough seasons we've had since.
Steve does not believe in relying on a perfect year but instead depends on ensuring his farm is resilient enough to withstand unpredictable but inevitable harsh weather events. His approach involves a balanced strategy for managing the land, using groundcover methods and good chemical applications that don't destroy the soil.
As a part of the Climate Resilient Soils Network, Steve hopes to make sound approaches to soil management more accessible for Australian farmers.
The Wood Family has been in the Manildra district for 20 years, moving from the Blayney area in 2001. Their focus is on improving soil health through zero till and CTF on 9m. A diverse rotation of cash and grazing crops and livestock are integral to the ongoing goal of increasing soil organic carbon and decreasing bulk density. Shifting soil characteristics in that direction will help to bolster the resilience of the overall business.
With a background in Agronomy, Luke and Alex are proactive in trying new ideas and technology to improve their farming system. SoilCQuest provides one such avenue for new technology to increase soil organic carbon. The Woods family strive to reduce synthetic inputs, particularly fungicides and insecticides, to allow beneficial soil biology to express.